© Copyright 2008 Tink *~*~*
http://MyMobileAdventures.com
click any photo to see a larger version in Flickr
Spring is coming, and you know what that means – soon it will be time for the Flower and Garden Festival at EPCOT in Walt Disney World! I am positively enamored of the Flower and Garden Festival. I used to be quite the garden geek back in the day, before I moved to a place where I have NO idea what is growing on the side of the road. It's kind of disconcerting not to be able to identify any of the trees or shrubs or flowers that are in my own front yard! Yet when I go to the Flower and Garden Festival, I can identify stuff, thus re-inflating my sense of self-worth. (Pssst… if by chance I cannot identify it, guess what? They've got signs on practically EVERYTHING!
)
Somewhere in my travels across the internet, I have heard Disney's character topiaries referred to as "The Chlorophyll Zoo". Now, it is true that not all of the topiaries you'll find at Disney World are animals. Just a few weeks ago, I featured topiaries of Snow White and the Seven Dwarfs, and despite Dopey's big, floppy ears, none of these can be accused of being a critter. Even today's topiary critters are suspect; they've all got some anthropomorphic qualities. Well, all except for Pluto. While Goofy, who is a dog, walks upright and speaks and has "hands" instead of front paws, Pluto, who is also a dog, was introduced in a cartoon short during the 1930s as Mickey Mouse's puppy! And typically, you will see pluto on all fours. So technically, only one of today's subjects is actually a critter through and through. The rest of them are suspect
Back to the subject of topiaries – often you will find that Disney topiary supplies are offered for sale in Downtown Disney or at the festival itself. The frames can be rather pricey, but if you keep looking online, you can sometimes find a bargain. I've seen smaller versions of the ones you see here; I think most of these are taller than I am, and at 5'7″, I am not short. The smaller ones are about two feet high and I hear tell they take quite a bit of sphagnum moss and fishing line to get them set up. I've also seen very small table-top sized versions of a Mickey Mouse topiary for sale at the Flower and Garden Festival. The larger ones are started at least a year, if not more, before the Festival at which they debut. There must be a greenhouse somewhere on property with a dozen or so of each character in various stages of it's life cycle – some just starting, some halfway there, and some ready to take their place in the landscaping of the parks
The year these photos were taken, the theme was pirates. Peter Pan, Hook, Smee and the pirate ship all graced the front entrance of EPCOT, with Spaceship Earth making an iconic backdrop for the scene. Meanwhile, in the World Showcase Plaza, Mickey and the gang were posed around a "treasure chest" with ivy and golden blossoms spilling out of it. I had my oldest niece with me; it was her graduation gift to be taken to Disney World.
In the middle of this coming May, my very youngest niece, just 4 years old, will be making her first visit to Walt Disney World. I'm not sure she will be paying attention to the topiaries. She'll be too busy being excited over the prospect of having a meal at Cinderella's Royal Table. Auntie Tink *~*~* recently sent her a lovely Cinderella costume that she'll be wearing for her visit to the castle, complete with dainty slippers, tiara, and earrings that don't pinch but she's afraid they will, so she won't try them on
Bro. No. 2 says she'll get over it by time she heads up to the Royal Table. She will be beyond adorable with or without them, I'm sure!
*~* More posts about Disney's EPCOT
*~* My previous Camera Critters posts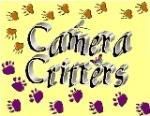 Visit other Camera Critters participants
EDITED Sunday 02-22-2009: someone suggested that I use this post to play Today's Flowers, too. So that's what I'm doing! I've never played before, and I hope this qualifies.
SUBSCRIPTIONS to My Mobile Adventures *~*~* are FREE!
If you'd like to subscribe to this blog, here are some options:
CLICK to Subscribe by email
CLICK to Subscribe by RSS
Thanks for your visit!