© Copyright 2008 Tink *~*~*
http://MyMobileAdventures.com
This peacock blends in pretty perfectly with his surroundings.
Photo taken at Disney's Animal Kingdom in Orlando, Florida. April 25th, 2004
Peacocks come in different colors, which is something I did not know until I encountered this one at Busch Gardens "Africa" in Tampa, Florida –
Interestingly enough, I've discovered that the peacock technically should not be included in Busch Gardens "Africa" because it is indigenous to India. But he was pretty so I'll let it slide.
*~* More posts about Disney's Animal Kingdom
*~* My previous Camera Critters posts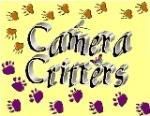 Visit other Camera Critters participants
SUBSCRIPTIONS to My Mobile Adventures *~*~* are FREE!
If you'd like to subscribe to this blog, here are some options:
CLICK to Subscribe by email
CLICK to Subscribe by RSS
Thanks for your visit!