© Copyright 2008 Tink *~*~*
http://MyMobileAdventures.com
The American white ibis is found from the mid-Atlantic region of the United States all the way south into the tropics. They are colonial by nature, and can be found roosting among quantities of other types of wading birds, such as herons and egrets. The two genders are virtually identical in appearance, but they do have different calls – the male is more of a grunter, while the female is more of a squealer. Doesn't THAT just make you want to be around while they're rockin' the rookery?
Getting back to their appearance – the feathers of the adults are actually not completely white. When an ibis takes flight, you can see that the tips of their unfurled wings are black. Juveniles have a sort of mottled appearance, like this one I photographed a few weeks ago on Sanibel Island here in Southwest Florida.
You can often find an ibis or 5 patrolling the beaches here for their dinner. They use their long, curved, red beaks as a probe to find tasty morsels amongst the piles of marine debris brought in on waves from the Gulf of Mexico. The ibis will eat fish and other marine animals, insects, small reptiles and frogs. In addition to being found at the shore, the ibis can often be found hunting for insects on people's lawns. Since I've had cinch bugs destroy parts of my lawn on more than one occasion, I don't think I'd mind if a flock of them decided to drop by now and then!
My previous Camera Critters posts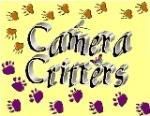 Visit other Camera Critters participants
SUBSCRIPTIONS to My Mobile Adventures *~*~* are FREE!
If you'd like to subscribe to this blog, here are some options:
CLICK to Subscribe by email

CLICK to Subscribe by RSS

Thanks for your visit!