© Copyright 2008 Tink *~*~*
http://MyMobileAdventures.com
Maharajah Jungle Trek RED Stuff, Disney's Animal Kingdom
(a Ruby Tuesday post)
There is a section along the Maharajah Jungle Trek at Disney's Animal Kingdom that features a good amount of the color RED. Perfect for Ruby Tuesday!
This sign invites guests to continue on through the "Red Pavilion"
The pavilion is indeed constructed of pale red stones. There's also a curious little red vehicle sitting before it.
I want to say it's a rickshaw, except every picture of a rickshaw that I found on Google has the driver PULLING it, not pushing! So I don't know what it is, but it's red. 🙂 Anandapur is the name of the little town we're in, here in the Asia section of Disney's Animal Kingdom.  It's very close to the Himalayas.
Quite a few signs on the trek, many of them in red. This one promises Birds of the Royal Forest are lurking somewhere.
Now, the bird painted on this sign was red in person, not the pink that this photo would have you think it is. But what's pink anyway, besides red with a little white thrown in? I say it's red – let's have a closer look.

Eh, closer is not really an improvement in the redness department. Well, you'll just have to take my word for it that it was red in real life!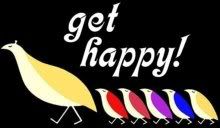 Also, the shape of the bird is somewhat reminiscent of the logo for the Partridge Family.  So what do you think – could be an exotic pink cousin, right? 😉
Well, now this is strange! All of the signs thus far have been friendly. This one is polite, but clearly not welcoming. I wonder what's in that forest, and why someone doesn't want us to enter and explore? Hmmm, the plot thickens…  😀
RELATED POSTS:
My previous Ruby Tuesday posts
Visit other Ruby Tuesday participants
Subscribe to My Mobile Adventures *~*~*
That way, you'll never miss a post. 🙂