© Copyright 2008 Tink *~*~*
http://MyMobileAdventures.com
Six Mile Cypress Sky
click the photo to see the version posted to Flickr
Sky so blue and clouds
so puffy, filtered through the
branches of the trees.
SIX MILE CYPRESS SLOUGH is a beautiful strip of wetland woods that isn't actually six miles – it's about nine miles long and maybe a third of a mile wide.  The slough (pronouced "slew", rhymes with "you" – yeah, I had to look it up!) runs alongside Six Mile Cypress Parkway, just north of Daniels Parkway in Fort Myers.  Migratory birds like to take a pit-stop here to fatten up for their long journeys hither and yon.  People come to walk through the preserve, which you might think is icky if you didn't know that they've built a raised boardwalk so you're not slogging through the swamp.  😀
I use Six Mile Cypress Parkway when I am driving to or coming home from Sanibel Island, and I always pass the sign that advertises the days of the week and the times for the guided nature walks, and think to myself that I'm going to have to play sick one of these work days and just go and do it!  I think I will ring up my friend Snowbird for this particular adventure, as she has expressed interest in the past.  I've been through there by myself, in the hot muggy summertime; this photo was taken in the Slough July 25th 2005, which was the trip I made down here to go house hunting.  I had to wear a ton of bug spray, and my tour ended when the skies opened up and let loose a torrential summer rain, so typical of this area during rainy season.  Yep, gonna have to do this soon, before the temps turn sultry and the air turns buggy again.
And after we do that, maybe I'll play hookey again and we'll do the Corkscrew Swamp Sanctuary down in Naples, Florida.   😉  It's an Audubon site!
RELATED POSTS:
My previously published photos of Six Mile Cypress Slough:

The boardwalk
Reflection Shot
One Way?
CLICK to browse my previous sky-related Friday posts
Visit others who take pictures of the sky: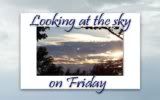 Do you haiku? This place is haiku heaven! –

Subscriptions to My Mobile Adventures are fun and absolutely FREE!
Click to Subscribe by email
CLICK to Subscribe by RSS