© Copyright 2008 Tink *~*~*
http://MyMobileAdventures.com
Tranquil blues and whites
do not always reflect Truth.
Truth can lurk unseen…
I've read that all it takes is one single mangrove pod in the right place under the right conditions to blossom into a mangrove island. The evidence can be seen at the J. N. Ding Darling National Wildlife Refuge, which covers a significant portion of the north side of Sanibel Island. The area is part of a larger marine ecosystem which is called the J. N. Ding Darling National Wildlife Refuge Complex. The complex includes other refuges such as the Caloosahatchee, Matlacha (matt-luh-SHAY), Island Bay up in Charlotte County, and Pine Island.
The state of Florida recently received an "iffy" report card, which rated the state's efforts at protecting marine life with a lot of Ds ("A" being the highest grade). This means there is lots of room for improvement in our policies and laws that govern the use and abuse of ecosystems that have an impact on these wildlife refuges. It's not enough to have laws that only pertain to the refuges; since everything is connected, actions in the middle of the state eventually produce a downstream effect on delicate marine environments such as these.
I'm looking forward to seeing some earnest effort on the part of the state legislature toward cleaning up Florida's act, so that subsequent report cards reflect an increase in the amount of respect we afford our natural systems.
FURTHER READING:
click the photo to see the version posted to Flickr
RELATED POSTS:
CLICK to browse my previous sky-related Friday posts
Visit others who take pictures of the sky: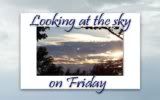 Do you haiku? This place is haiku heaven! –

Subscriptions to My Mobile Adventures are fun and absolutely FREE!
Click to Subscribe by email
CLICK to Subscribe by RSS