© Copyright 2008 Tink *~*~*
http://MyMobileAdventures.com
Blogless Thursday: Memes I Owe
You might think that I have forgotten my vow not to blog on Thursdays. Well, I have not forgotten. I am writing this on a TUESDAY and setting it up to publish itself on a Thursday. Therefore, I am not blogging. My blog is, in fact, blogging for me. In a court of law, the most I could be convicted of is conspiracy to blog, or perhaps pre-meditated blogging. But not actual blogging.
Anyhow – I owe people memes. I got tagged a bunch in the past month or so, and never made good. So I'm-a-makin' good now! I used the feature in the dashboard of my blog that shows me who has linked to me in order to find all the blogs of all the people who tagged me. If you have tagged me and I didn't respond or list it here, please bring it to my attention!
Flickr Six Of Six

Last in, first out – it's my pal banannie The idea is to go to page 6 of your Flickr photostream and select the 6th photo to post on your blog. So that's what I've done, and what I found there was this photo that I mobile photo blogged a couple of weeks ago from Biddle's Bucket on Sanibel Island while I was there with my friends doing the Sanibel Bar Crawl. The caption is "To Friends". Ain't that the truth!
I don't think I actually know six people who use Flickr that I could tag on their blog. I think I know two aside from the person who tagged me. So here's to you, Elaine – tag, you're it! And you too, Gayle – tag, you're it!
Six Random Things About Myself
Up next, we've got a two-fer. Both Debbie and Robin tagged me with this one
The Rules:
1. Link to the person who tagged you – see above, it was Debbie and Robin
2.Post the rules on your blog – this is what you are now reading
3. List 6 random things about yourself.
4. Tag 6 people at the end of your post.
5. Let each person know they have been tagged and leave a comment on their blog
SIX Random Things About Myself
ONE. I am currently wearing a gold fishie necklace that was given to me by Niece No. 5
TWO. I call the bathroom in my master suite "The Palace" because it is so freakin' huge
THREE. I miss crunching the leaves while walking up to my voice teacher's house every autumn – she had the best leaves!
FOUR. Can't wait to see The Biggest Loser tonight!
FIVE. I wish I had started studying earlier for this exam I'm taking on Saturday morning in Orlando. I keep doing practice tests each night, and I'm getting a little better each time, but still not where I want to be…
SIX. I'm going to violate the rules of this meme and NOT tag anyone. It was hard for me to come up with "six random things" and I have read that on other people's blogs too, so I'd rather not torture them!
Kreativ Blogger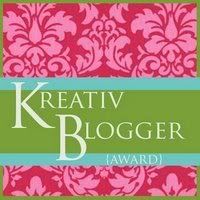 I got tagged with this one by Gayle. It's not just a meme, it's also an award called Kreativ Blogger. It even has it's own logo! For this one, I have to name –
SIX Things That Make Me Happy
ONE. Being able to enjoy the sunshine and warmth of Florida year-round makes me happy.
TWO. Having time for a life makes me happy.
THREE. I'm an information junkie, so the internet makes me happy.
FOUR. Dove miniatures make me happy
FIVE. Seeing my family and friends makes me happy, especially if they come to visit me here!
SIX. Music makes me ecstatically happy.
Wow that one was MUCH easier than "random things"! And now, I have to tag six people.
Tootie at Sanibel Toot's Lazy Days , Snowbird at Sand Between My Toes Christa at Teetering on the Edge of the Empty Nest , Melora at A Little Slice of Life Ed at Caribbean Soul and Christene at ChrisCandJonJ – Our Vanilla Life – TAG, YOU'RE IT!
This last one is also from Gayle. It's actually a SEVEN random facts meme. Since I've already done six of them, I'll just add one more –
SEVEN. I hate putting on makeup, but once it is on, I'm all like, "Dang, woman – you look EXCELLENT" 🙂
And with that, I do believe I've caught up on every meme I owe! If I didn't catch them all, please drop me a comment with a link and I shall mend my memeful ways and get right on it!