© Copyright 2008 Tink *~*~*
http://MyMobileAdventures.com
Doo, doo, doo, lookin' out my back door at the SKY!
click the photo to see the version posted to Flickr
January 17th, 2009. Southwest Florida
Ev'ning colors streak
the sky and the pond reflects
it all perfectly.
I feel really terrible for some of my friends, who are enduring yet another storm with disgusting, vile forms of precipitation piling up outside.   Each time I publish a photo like this, I worry that they think I am rubbing their noses in the fact that winter is not Florida's time for disgusting, vile precipitation; we wait for summer hurricane season for that!  So, a couple of weeks ago when many of them were down here visiting Sanibel Island, I presented them with their very own Executive Mini Sandbox, Beach Break And so, to Anne in New England and Kaki in the Midwest, and to Kim and Derice in the Mid-Atlantic states, I hope you will remember to break out the sandbox, bury some miniatures shells in the sand, and take comfort in a little pseudo-shelling and dreaming.
RELATED POSTS:
CLICK to browse my previous sky-related Friday posts
CLICK to relive the fun of Super Crawl Weekend
Visit others who take pictures of the sky: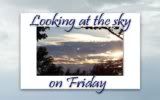 Do you haiku? This place is haiku heaven! –

Subscriptions to My Mobile Adventures are fun and absolutely FREE!
Click to Subscribe by email
CLICK to Subscribe by RSS