© Copyright 2008 Tink *~*~*
http://MyMobileAdventures.com
On Wednesday, i showed you a calm, peaceful sunset as viewed from a Sanibel Island causeway beach. Here's what that same beach looks like when March blows in like a lion – complete with haiku!

After seeing friends,
I stop along the causeway
beaches, reluctant
to leave the island
just yet. The punishing wind
rips through pines and palms.



Whitecaps advance and
break in rapid succession
on the sandy shore.
I get my shots and
quickly get back in the car,
bones profoundly chilled.


click photos to see larger versions in Flickr
RELATED POSTS:
CLICK to browse my previous sky-related Friday posts
Visit others who take pictures of the sky: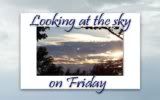 Do you haiku? This place is haiku heaven! –

Subscriptions to My Mobile Adventures are fun and absolutely FREE!
Click to Subscribe by email
CLICK to Subscribe by RSS